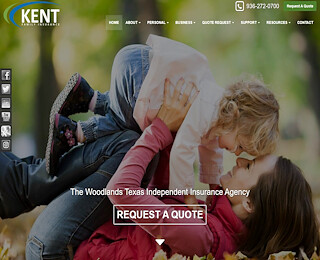 In an age when everything seems to be getting more expensive while wages go down, people are looking for practical ways to save money on car insurance. Kent Family Insurance encourages you to shop around and look for the best rates in Texas. We dare you to find better rates than ours, and if you do, we'll beat them! We understand that no one wants to pay more for auto insurance than what it's worth, and that is why Kent Family Insurance offers the most affordable car insurance in the Woodlands, TX.
If you would like to speak with a representative from Kent Family Insurance, you may do so today by contacting us directly. Just call (936) 272-0700, and we'll provide you with a free quote on car insurance. Plus, we will listen to your needs and try to match you with the best possible product. Go ahead, give us a call.
In the meantime, please consider five tips that can help you get the best rates on car insurance
Top 5 Tips to Get the Best Rates on Car Insurance
Affordable car insurance in the Woodlands, TX is just a phone call away. Contact Kent Family Insurance today to receive a quote.
1. Don't Assume that You Know Which Companies are the Cheapest
This is a prejudice that many insurance buyers start out with. They think that they already know who has the cheapest car insurance rates and who doesn't. However, in our experience, these assumptions are almost always wrong. Car insurance companies spend a lot of money on TV commercials and online advertisements to convince you that they have the lowest rates. Don't believe it! Take your time and shop around. You'll be glad you did.
2. Consider a Local or Regional Insurer Like Kent Family Insurance
Did you know that Geico, Allstate, Progressive, and State Farm control more than 50% of all the nation's auto insurance policies? While it might seem natural to assume that these national franchises can provide the best rates, this isn't always so, and smaller insurers almost always have higher customer satisfaction ratings.
3. Look for Car Insurance Discounts
Almost every insurer provides a variety of discounts, but you may have to dig to find them. Typically, the best way to save big on car insurance is by bundling it with other policies. That's what most of our clients do.
4. Be Conscious of Insurance Costs When Buying a Car
This is something that almost no one ever does! But by checking the cost of insurance when buying a car, you can save big in the long run! When buying a vehicle, take the time to check insurance costs before making your purchase. You might be able to save $100 – $200 per month on insurance, depending on the car you buy!
5. Is Usage-Based or Pay-Per-Mile Best for You?
If you are a safe driver and you don't drive very much, consider letting your insurer track your driving to achieve the best possible discounts.